Setup the Zoom integration and get all the insights in Torii's dashboard
Overview
Torii integrates with Zoom and syncs:
Users list -
- All users subscribed to zoom with the company email.
- Any users from the account, even with non-company email (for example,
contractors)
User status - Active, Inactive, Pending
Last logged in time - When was the last time Zoom was used for hosting/joining
License types - Licensed, Basic and more (Including unassigned) ,See the full list below
Usage-Based on users who have hosted Zoom calls
Note, Torii can support multiple accounts
With this integration, you will be able to:
Identify users who haven't used Zoom for a while
Recognize and remove from Zoom employees leaving your company
Be better prepared for renewals
Additionally, you will be able to perform the following actions:
Create Zoom user
Reactivate Zoom user
Deactivate Zoom user
Unlink user from Zoom account
Delete/ suspend Zoom user
Change Zoom user type
Supported and unsupported license plans
The Zoom integration supports admin accounts and does not sync sub-accounts.
Supported Plans (including unassigned licenses):
Zoom Licensed
Zoom Basic
Zoom Phone
Zoom Webinar
Large Meetings
Events
Torii does not sync with:
Note, if you connected Zoom prior to Dec 2021, please reconnect to gain the extra licenses and usage information
Connect Zoom integration to Torii
To connect Zoom to Torii, follow these steps:
Go to the Integrations page
Connect to Zoom

Select the permission level (click here to view the permissions descriptions).
Note that Zoom doesn't allow selective permissions therefore Torii requests all of them.
The "Read and Take action" permission is required for users' provisioning and workflow automation (like onboarding/ offboarding).
You will be redirected to Zoom's website and asked to log in to Zoom

Authorize the required permissions
Torii will sync your Zoom data, which usually takes up to a few minutes.
You will be able to see the data on the Licenses page.
Application Capabilities
You can constantly be updated with application information from our Integrations Page >> Integration Capabilities button >> Integration Capabilities table.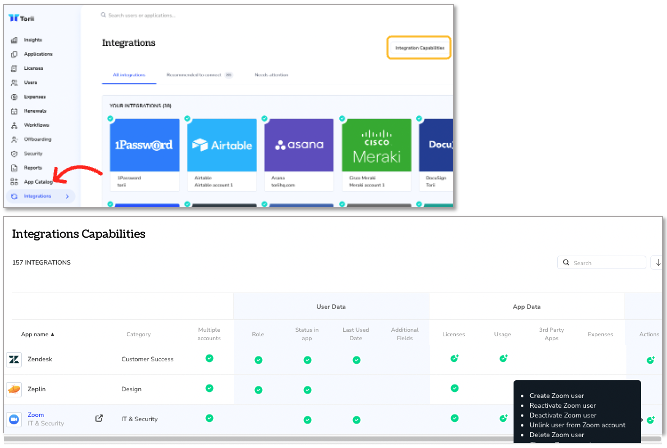 How to Uninstall Torii From Zoom
To uninstall Torii, go to the Installed apps page on Zoom (1), find Torii, and click "Uninstall" (2).
Q&A
Q: When deactivating a user in Zoom that has multiple license types (i.e. Zoom phone pro, basic, etc.), will Torii deactivate ALL of the licenses?
A: Yes, it changes the user type to Basic and sets the status as inactive.
Q: I want to approve Torii only for the integration user. How can I accomplish this?
A: To approve Torii only for specific users, you will want to pre-approve Torii in the Zoom marketplace. Please follow the steps outlined in this
help article
or contact Zoom support for additional information.