Set up Google Workspace integration and get all the insights in Torii's dashboard
Overview
Torii integrates with Google Workspace (G Suite) and syncs:
User list
licenses
3rd party application list
3rd party permissions
Google Workspace integration is an OAuth connection.
Prerequisites
Connect Google Workspace integration
From the Torii Integrations page click on the Google Workspace tile

Click Connect


Your Google Workspace account can be integrated as:

"Read-Only" in order to see your Google Workspace data within Torii

"Read/Take Action" in order to create workflows and take action directly through Torii.

This step is optional, but if you'd like to perform the "Set Vacation Responder" and "Enable Auto Forwarding" actions from Torii on your Google Workspace users, please follow the below steps.
Enter the Service Account Email Address


Prerequisites:
You must have "Super Admin" permissions and a "Service Account".
In the service account, be sure to include the following scopes
- For Set Vacation Responder action -https://www.googleapis.com/auth/gmail.settings.basic
- For Enable Auto Forwarding action - https://www.googleapis.com/auth/gmail.settings.sharing

This step is Optional and dependent on step 4. Add the Service Account Private Key; please add the Service Account Private Key; make sure to copy the entire key as shown in the image.



Click Connect

Read-only
In case you choose to connect to Google Workspace for "Read-only", Torii will require the following permissions:
NOTE: Google documents that a Google Super Administrator user is required to read licenses data in Google's access control policy:
"License Management — This privilege works only in the Admin console and authorizes only super admins to use the License Manager API."
However, we found that creating a dedicated admin role that is not a Super Administrator does allow for reading the License management.
If you have created a dedicated Super Admin user for the integration, make sure you log in with that user and accept any Google Terms of Service.
Without accepting the Terms of Service, Torii's access will be limited.
Read and take actions
In case you choose to connect Google Workspace for Read and take actions you will grant Torii the following permissions:
Application Capabilities and Actions
You can stay updated about application information and actions from our Integrations Page >> Integration Capabilities button (1) >> Integration Capabilities table.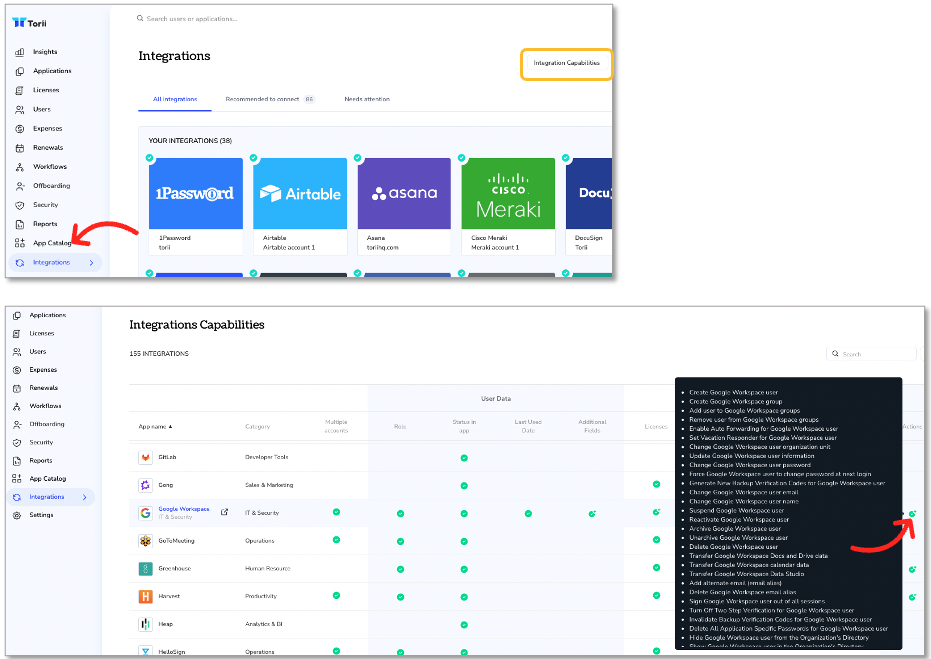 Usage
Torii pulls 2 types of usage events and calculates Google Workspace usage based on them:
SAML Audit activity events - Usage for apps connected to G-Suite SSO

Login Audit Activity Events - General usage for Google Workspace for example 2-step verification enrollment change, Account password change, etc.
On the first usage sync, Torii will pull activity events from the last 30 days.
Troubleshooting
Authorization Error
You might encounter the following Authorization Error
Resolution
From Google Admin page go to Security

API controls

MANAGE THIRD-PARTY APP ACCESS

Click on Add app

Select the OAuth App Name OR Client ID option

Search for Torii

Click Select

Check all Client ID boxes

Select the Trusted option

Click Configure